Awning Cleaning
One of the best ways to keep acrylic fabrics looking good all year long and to delay deep or vigorous cleaning is to properly maintain your awning fabric. Keeping acrylic fabric looking its best is simple and easy.
Day-to-day maintenance:
Brush off any loose dirt
Apply a mild soap and warm water solution
Use a sponge or soft brush to clean
Allow the cleaning solution to soak into your fabric
Rinse your fabric until all soap residue has been removed
Air dry
For more detailed information on cleaning your awning and for information about re-treating the fabric visit Sunbrella's Care and Cleaning page also available in PDF.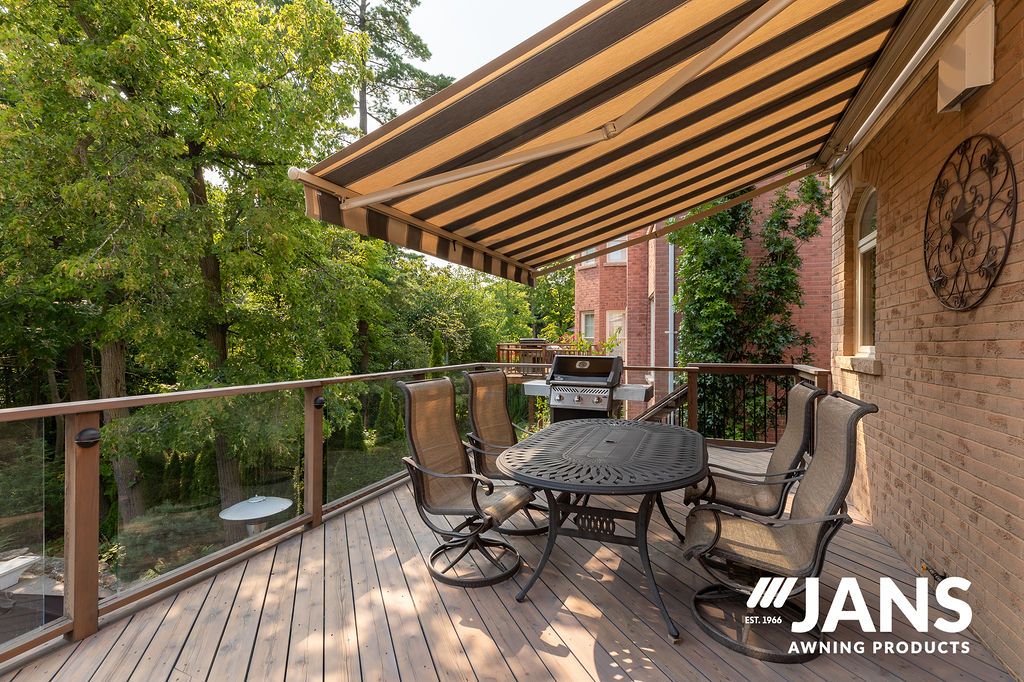 For Mold and Mildew Stains:
Mildew does not grow on acrylic fabrics; however, if dirt and other foreign objects is not removed from your awning fabric mildew can grow. Carefully follow these manufacturer recommended steps to attempt to remove mold or mildew:
Prepare a solution of 1 cup of bleach and 1/4 cup mild soap per gallon of clean water.
Allow mixture to soak into fabric for up to 15 minutes.
Clean with a soft bristle brush.
Rinse thoroughly until all soap residue is removed.
Air dry.
Repeat if necessary.
There can be a point where the best option is to replace or rotate your awning fabric. You can contact us for more information.
It is always best to rinse the entire fabric thoroughly to avoid water rings and stains. Diluted bleach typically won't harm acrylic fabric, but it should used with caution and rinsed away after use. Acrylic fabric air dries very quickly.
Visit Sunbrella's how-to-clean page for additional details on cleaning your awning fabric.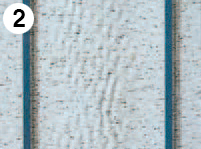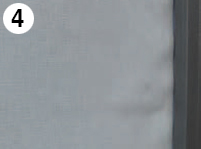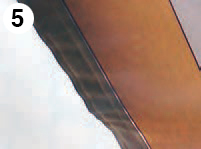 Acrylic fibre awning covers are high-performance products with high light and colour resistance and mould-inhibiting, water and dirt-resistant finish. They will provide many years of safe, comfortable protection from the sun.
Despite the high level of technology applied in the manufacture of awning covers, however, the treatment of the cover produces effects that cannot be avoided. These unavoidable effects are explained in the consumer information that follows.
Creasing (1) can occur during the manufacture and folding of awning covers. Especially with lighter colours, the creases can look darker when viewed against the light.
Chalky lines or colour breaks are lighter strips caused during manufacture which cannot always be avoided, even if the greatest care is taken.
Corrugations and undulations (2, 3, 4) of the seams and other stitching are caused by multiple layers of cover and varying forces created when the cover is extended or retracted. The tension created can cause waffle-like or fish-boned corrugations.
Stretching of sides (5) Seams and stitching have a reinforcing effect but must also withstand great tension. When the cover is extended, the seams and stitching lie over and against each other, which can create pressure and tension. Seams and stitching may be pressed flat and thus extend in length. This can mean that when the cover is extended, the side seams may droop slightly. As a rule, this effect can occur in almost all awning covers to a greater or lesser degree. It does not, however, affect their quality or usefulness.
Water-resistance – Acrylic sun-protection awning covers are impregnated with a waterproofing substance and can bear short, light rainfall if the incline is at least 14°. If the rain is prolonged or heavy, awnings must be retracted to prevent damage. Awnings that have been rolled up wet should be extended to dry out.