Winter truly is a bittersweet season. Along with that warm holiday glow comes cold nights, shorter days, snow, ice, and wind! Keeping your home as warm and dry as possible will dramatically increase your chances of having an enjoyable winter. Winterizing your home can sometimes be a big project, but with a few small improvements you can be coming home to a warm and dry house every single day.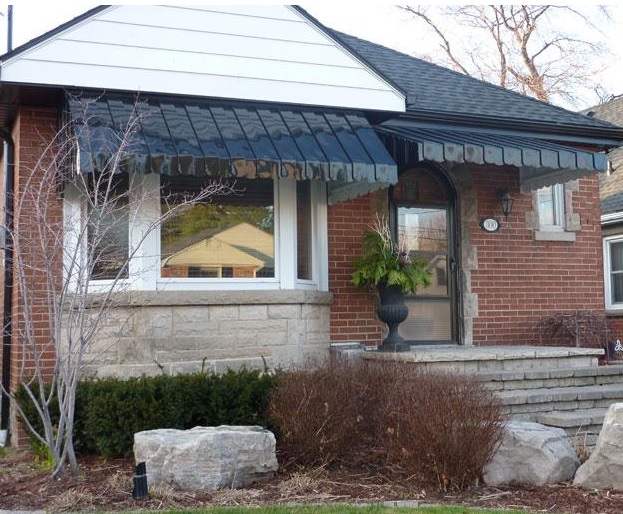 Start With New Doors and Windows!
An enormous amount of heat is lost every winter through inefficient, poorly installed, or simply old doors and windows. Today's energy efficient windows have been built with the intention of not only reducing heat loss, but also helping you save on your heating bill while reducing your impact on the environment. At Jans Awning Products, we help homeowners install new doors and windows all year round that keep their home cool in the summer and warm in the winter. We carry the North Star line of quality vinyl windows, and specialize in bay and bow windows. North Star windows have been specially designed to thrive under Ontario's harsh weather conditions, while also looking fantastic!
You can see all of our Window options here. Alternatively, consider installing some storm windows. Did you know that simply installing a storm window can increase the efficiency of your windows by up to 45%? Storm windows act by sealing up drafts and reducing the loss of heat from the inside of your home.
Schedule a Furnace Inspection
The best time to schedule a furnace inspection is before you even need it! During a furnace inspection, a professional heating specialist will do everything from change the filters of your furnace, to check the electric connections, and make sure the emergency shutdown and startup functions are working properly. They will also calibrate the temperature controls and help you program the settings to suit your heating preferences and schedule. The most important part of a furnace inspection is changing or cleaning the filters. These filters are what keep your furnace operating efficiently and safely.
Seal Up Gaps with Caulking and Weather-Stripping
Even the smallest of gaps can lead to a horrendous amount of heat loss. According to the U.S. Department of Energy, these gaps around doors and windows can lead to between 5-30% of lost energy efficiency every single year! Take a close look at the areas where two different building materials meet, such as in corners, chimneys, where wires enter and exit your home, and all along the foundation. To find areas where you might be losing heat, use a stick of incense. Move a stick of lit incense along the exterior walls of your home, wherever the smoke of the incense wavers is where you are losing heat.
Lastly, make sure that your home is well insulated! Attics, garages, and basements are prime candidates for heat loss. Even if your home already has insulation in these areas, simply adding more can get your home even warmer!
To learn more about how our awning and window products can have your home warmer by winter time, contact Jans Awning Products today!