Most of us were more than happy to see 2020 come to an end after the worldwide COVID-19 pandemic threatened both our health and the Burlington economy. And now, with vaccines finally starting to roll out, there is hope on the horizon. Nevertheless, it could still be some time before the pandemic is over, and travel plans for this year are most likely on hold. Because of this, many Burlington homeowners are going to be investing in their outdoor space instead so that they can better enjoy their summer staycations.
When it comes to upgrading your outdoor space, you've got many options, including the elegant and sleek Pergolino, which is ideal for protecting you and your family from harsh sun and light rain. The Pergolino looks beautiful when it is brand new, but how can you be sure it will keep that elegant appearance years from now?
We have all seen cheap canvas coverings that begin to look frumpy after only a season or two because the fabric does not remain tight.
Fortunately, that is not an issue with the Pergolino, thanks to its fabric locking system.
Fabric Locks for Pergolinos
Pergolino uses a system of sliding brackets and guide rails to help keep fabric locked in place at the ideal tension level to keep it looking and functioning at its best. The fabric lock system can even be complemented with a range of lighting accessories to help you enjoy this beautiful awning system well into the evening.
The fabric locking system also makes the Pergolino an incredibly convenient choice of awning as it is so simple to tension the fabric.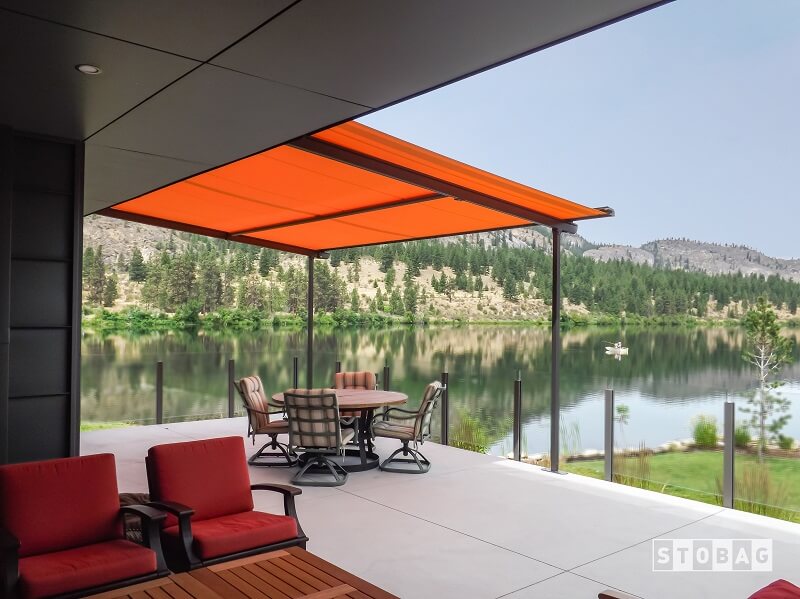 Benefits of Pergolino's Fabric Lock System
When you are considering which type of awning to purchase for your Burlington home, fabric locks may not spring to mind as the first criteria you think of. But in the case of the Pergolino, they are definitely something to consider. These fabric locks offer a number of benefits including:
Aesthetics
Because the fabric on your Pergolino awning will always be pulled to exactly the right tension, your awning will keep its elegant appearance for years.
Functionality
Your awning will provide you with the best protection from the elements when the fabric is at its proper tension.
Longevity of your Awning
Because Pergolino's fabric locking system keeps your awning fabric at the ideal tension, it can improve your awning's longevity. Fabric that is too tight may deteriorate faster over time, and fabric that is too loose is more likely to catch and hold rainwater and debris, which may also damage your awning if not removed promptly. Pergolino's fabric locks are designed to give you the maximum lifespan out of your awning fabric.
Experience Pergolino's Unique Fabric Locking System for Yourself
If you are considering purchasing an awning for your Burlington home this year, consider choosing a Pergolino. Contact Jans Awning Products today to learn more about this awning and its unique fabric locking system.