Jans Awning Products has been in business serving Burlington since 1966 offering quality Awnings in the Burlington, Hamilton and Oakville area. Our products bring comfort, security, and add resale value to every home they enhance. Jans is a family owned business whose longevity is a testament to their service and the quality of the products they offer.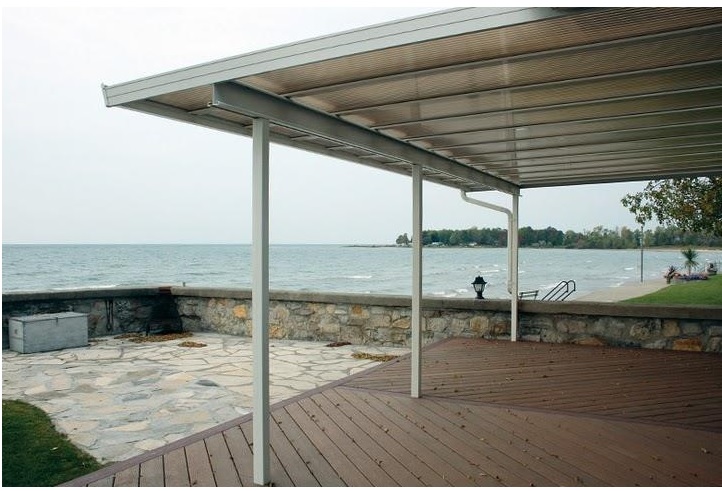 Their hard top roofing system is another of the products Jans offers to its discerning clientele. For those looking for a permanent solution to cover an outdoor area the hard top roofing system manufactured by Duraform Roof Systems and installed by the professionals at Jans Awning Products is the way to go. The roof is load bearing and features a tongue and groove panels for maximum strength and durability.
The embossed aluminum clad roof system is polystyrene insulated and comes with its own built in gutter system eliminating the need for adding on additional eaves troughs. When attaching to an existing wall space, the Duraform roof can be designed and fit around all wall extrusions such as chimney stacks or window bays. The 1200 series is perfect for car ports, attached or stand alone patios and features a stucco aluminum ceiling.
The 1201 series is recommended for larger spans and features a thermally broken I-beam that is used to join the panels. The Duraform Roof System is strong enough to use in low slope situations and is virtually maintenance free. Its fascia comes in a choice of colours and there is a skylight option for those looking for a more elaborate look.
We carry a wide range of styles of retractable awnings, in addition to a complete line of retractable window awnings and fixed canopies. This allows us to offer a solution for almost all residential or commercial situations in Burlington and Oakville that require protection from the elements. All of our awnings and canopies come with a manufacturers warranty and all installations are fully guaranteed.
The 1200 series is used in most standard applications such as carports, porches and permanent aluminum patio covers. It is designed to be load bearing within certain perimeters.
Sturdy tongue and groove construction with polystyrene insulation.
Stucco finished aluminum ceiling / roof.
To ensure utmost quality and customer satisfaction JANS takes great care to work only with suppliers that fully back their product and have earned a name for themselves within the industry through a proven record of excellence.
We are proud to be an authorized dealer for many leading manufacturers of quality awning products, backed by a proven history and industry leading warranties.
For more information about this roofing solution give us a call at 905-335-3733. Or visit our showroom at 4367 Harvester Road Unit 4 in Burlington.