Ahh, summertime. The best time of the year in Burlington, Ontario. The days are long, the evenings cool, and the bugs out in full force! You don't have to let pesky bugs dictate your evening plans though. Use Retractable Screens from Jans Awnings to create the backyard oasis of your dreams. Start by browsing our Retractable Screen gallery to get inspired for your next project!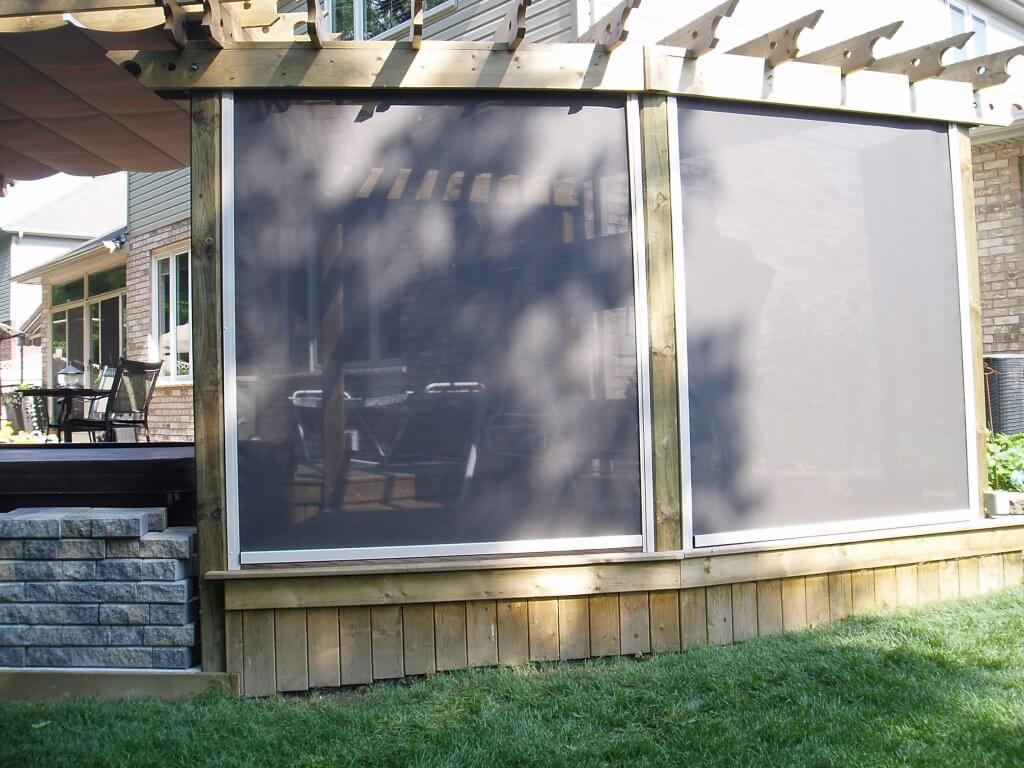 A retractable screen is a retractable screen that can be customized for every setting. It can be raised or lowered in just moments allowing you to enjoy the sun without the bugs. Jans Awnings Products provides custom retractable screen installation for spaces up to 20 feet using the Talius Retractable Screen. Retractable Screens from Jans Awnings are available in a wide range of colours, and styles. We guarantee that we can find you the perfect screen for inside and outside your home or workplace! In addition to the traditional manual crank, we also offer electric motorized controls that make using your Roll Screen even easier! This is the ideal solution for those with mobility concerns, or those who just love the convenience this offers!
Retractable Screen for Backyard Patios
So, you have built the backyard patio, installed the outdoor kitchen, bought the patio furniture and scheduled your very first barbeque! Unfortunately, the bugs also received an invitation. During the summertime, bugs and insects in Burlington are inevitable. Hot days and warm evenings are just too perfect a climate for these opportunistic pests. But, fear not. A Retractable Screen from Jans Awnings can dramatically increase the enjoyment you receive from your outdoor living space. All of our Retractable Screens are equipped with a sophisticated screen edge retention system. This is designed to keep your screen in place on even the windiest days! Furthermore, our Retractable Screens come in dozens of colours, sizes, and styles that are sure to compliment your space perfectly. The beauty of a Retractable Screen is that it keeps the bugs out, without blocking your valuable sunlight.
Retractable Screens for Apartment Balconies
Retractable Screens are especially useful for balconies in apartments and condos. They prevent premature fading on your expensive patio furniture, and also shade the occupants from the potentially harmful sunrays. With a Retractable Screen on your balcony, you can feel comfortable using this fantastic outdoor space even longer each and every year. Imagine, sitting on your balcony as the sun sets of Burlington, a glass of wine in hand, and not a bug in site! At Jans Awnings, we use the highest quality Retractable Screen available in the industry. Our Talius Habitat Screens protect you from UV damage, while providing you with comfort and privacy without forcing you to compromise on your fantastic view. Make the most of your outdoor living space with a Retractable Screen from Jans Awnings. It's not too late to schedule your summer Retractable Screen installation! Call us today at 905-335-3733, or inquire through our website.