You can't control the weather, and in the summertime the sun will blaze all it wants. It's welcoming to have some warm weather after the cold winter months, but in a way, this too restricts you from enjoying the outdoor spaces in your home. Jans Awning Products has a range of products. Using them is the best way to have the sun when you actually want it and the shade when you really need it.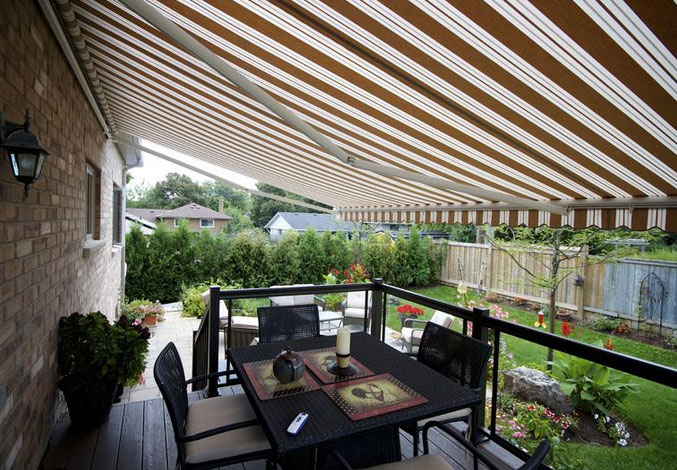 The Benefits
The best way to enjoy your outdoor living areas is to shade them from the sun with the convenience of the best awnings, screens and shades. If you think awnings and canopies are only for shade think again. They offer a number of other benefits and satisfy many different functional objectives such as:
Energy Savings – Apart from the shade and attraction quotient they provide, awnings help in saving energy in your home or commercial establishment. Any typical home will have windows and maybe a few glass doors too. Though these provide you with a view to the outdoors and let in light and fresh air, they also let in the heat (even when they are shut).
Solar radiation that streams in through glass accounts for almost 20% of the load on your air-conditioning systems. Having an awning or a shutter above large windows and French doors that lead out into a patio, deck or balcony can provide you with significant energy savings.
Protects the Interiors – You decorate your home with a lot of love and pour finances and effort into getting the right furnishing fabrics, carpets, rugs and curtains. But all of this is futile if you do not have the right kind of shade protection for your glass windows.
The sun's rays are very powerful and they tend to fade the carpets and furnishings in the interiors as well as the polish on your wooden furniture. The best way to prevent this from happening is to have deep awnings outside large windows.
Our Products
We offer you a number of products, all of which are made of long-lasting, flame-retardant and strong outdoor materials which are easy to clean. We have products like:
Retractable Awnings – These provide protection from the sun and rain and are available in manual as well as automatic variants and we are able to customize the widths for you
Rollshutters – These are ideal for residential, cottage/ business security and can be used on windows, storefronts, screen storage areas and pool houses. They provide your home, shop or office with the security and help in savings on energy bills too (even when you roll them down at night).
Screens & Shutters – These are the perfect way of enhancing your porch, gazebos and patios. They are available in motorized retractable styles and are the perfect way to keep these areas well-shaded
If you have a need for awnings, rollshutters, screens or shutters in Burlington, Ontario, Jans Awning Products has the right product for you. Contact us via the online form on our website or at 905.335.3733.