Awnings are a great way to create outdoor living space perfect for entertaining and enjoying fresh air. Whether shielding from sun, rain, wind or snow, an awning can make many types of weather conditions enjoyable. However, awnings call for particular safety attention, depending on what types of activities are going on in your outdoor space.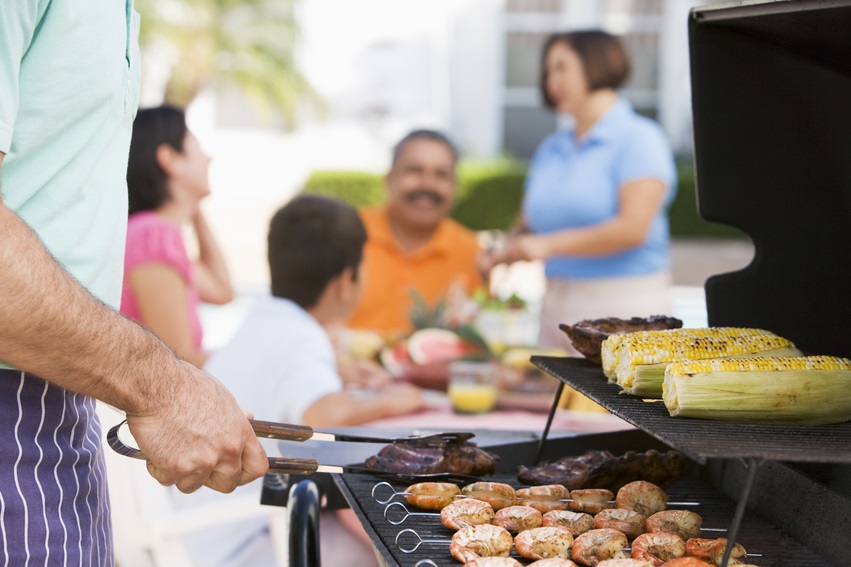 Barbecues and outdoor cooking:
It is important to consider proximity to barbecues and other outdoor cooking devices such as chimneys or fire pits. In Burlington, residents are allowed to have small, confined cooking fires if they are supervised at all times and used to cooking food on a grill. Outdoor fire pits, chimneys and other portable devices that are intended for backyard bonfires are not permitted without an open air burn permit.
That being said, even small cooking fires require special attention if they are in close proximity to an outdoor awning. Retractable awnings are a higher risk awning because they are made with a waterproof fabric. Suitable for both windows and doors, this type of awning is seen most commonly in backyards. Luckily, the retractable feature makes it easy to tuck away if you plan to BBQ or cook over a small fire. Fixed aluminum awnings are not at risk of catching fire from an unattended open flame. However, they can melt when exposed to extremely hot temperatures.
Prevention is key:
Preventing any accidents are top priority when it comes to fire safety. With this in mind, there are a couple of factors to consider before you choose to barbecue over an open flame.
1. If your awning is retractable, tuck it away before any fire or barbecue is lit.
2. Observe the premises. Are there bushes or trees that easily connect your fire or barbecue back to your awning or home. Make sure that the area is clear above and around your designated area.
3. Weather conditions are important. High winds make an open flame extremely risky, as well as extreme dryness, so try to avoid open air burning in these instances.
4. Smoke is dangerous too. Any fire in an enclosed space can create an uncomfortable environment, and breathing can become a real challenge. Ensure that smoke is not being captured under or around your awning to avoid the dangers of excessive smoke.
We don't recommend barbecuing under an awning for one main reason and that is carbon monoxide poisoning.  Carbon monoxide is an invisible and scentless gas that can become trapped under an awning.  While you may think the open air would send the carbon monoxide into the atmosphere, it could be funneling it into your home through an open window.  This is how several people died around Burlington during the ice storm of December 2013.  People barbecued or ran generators in their garage, which ended up sending gas into the house's crawlspaces, and eventually into bedrooms where people died in their sleep.
We at Jans Awning Products want you to have decades of enjoyment under your awnings.  Contact us today to have us install an awning you can enjoy while you watch your food barbecue from a safe distance away.