The hot sun is no match for your awning and it can turn an otherwise uncomfortable space, into one of enjoyment, comfort, and relaxation. When the weather turns ugly, what's protecting your awning?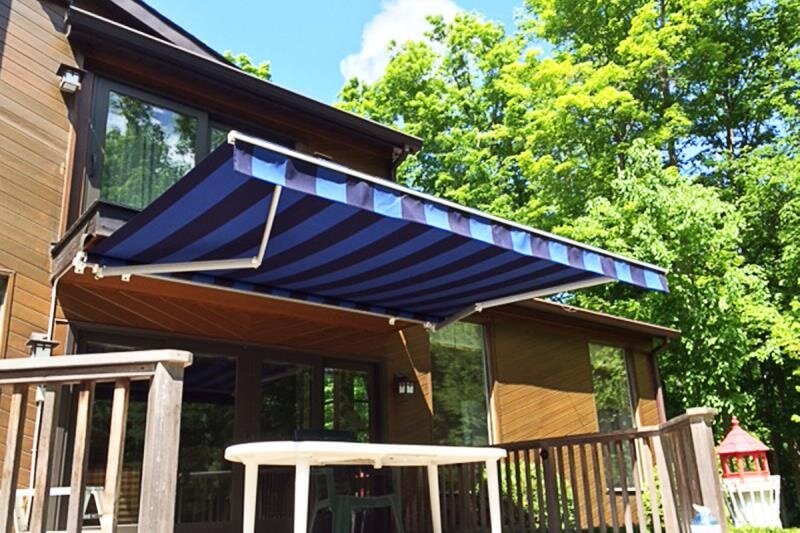 Awnings have come a long way in the department of durability. Structures are stronger and fabrics are more resilient. Despite these advancements, extreme weather can wreck havoc on our outdoor spaces. Everything from patio furniture to pools and fire pits. Your awning is no exception and despite their durability, they are at risk, along with the rest of your outdoor space, during inclement weather.
Awnings vs. weather is a fight that will be determined by both you and the quality of your awning.
While there are simple things that can be done to ensure damage does not occur to your awning during a storm, simplest amongst these are to retract your awning. An awning that hugs closely to the house will not be vulnerable to sun, rain and wind. During the winter, this is a no-brainer but during an otherwise pleasant season, it can be harder to remember to take in the patio furniture and retract that awning.
Rain
A good retractable awning can hold water but isn't designed to double as a pool. Most awnings are not water proof but water resistant and aside from a light rain, it is recommended to keep your awning down during inclement weather. Keeping the weight of a big rainstorm off your awning is your safest bet. How much rain your retractable awning can safely take will depend on its pitch.
Sun
Sun shouldn't be a problem for any quality retractable awning. After all, retractable awnings are designed, primarily to protect us and our homes from the effects of the hot sun. Good fabrics will last up to 20 years and are designed to resist fading. They are manufactured and treated so that they will not deteriorate under the constant heat of the sun.
Wind
Heavy winds can cause damage to the most stable elements of your home. The retractable awning is no different. All retractable awnings should be retracted during moderate to heavy winds. Wind can damage any number of components of your awning if it's left to its own defences. Given a strong enough wind, a retractable awning that is left up could actually do damage to your home. Wind is unpredictable and shouldn't be trusted.
Keeping your awning in good repair all year long will be your awnings best defense. Inspecting and cleaning the mechanisms and fabrics will alert you to any weaknesses in its makeup. Problems and repairs can be made before the bad weather hits. Take care of your awning and it will take care of you. Protect your awning and it will protect you.
Your awning might have lost the battle against weather and have been damaged, or it might be your first time looking at awnings for your home. Regardless of which column you fall into, our team of experts at Jans Awning Products are ready to help. Contact us today and we'll find the right awning for you and your home.