If you are looking to add a little shade or weather protection to your deck or patio, but still want to have a sleek and modern design, then you may consider some of the pergola awnings that we offer in our Burlington showroom.
Not only do these awnings protect you from harmful UV rays and light to moderate rain, but they will also give your outdoor space a Mediterranean vibe and help to create the ideal atmosphere for you to relax or entertain friends and family.
Introducing the Pergolino
For creating shade over very large areas, one of the most popular products that we carry is the Pergolino by Stobag. This pergola awning is ideal for homes with large outdoor areas or even for commercial patios for bars and restaurants. It is even possible to put two or three awnings together as well as additional side and front panels to increase the coverage and provide even more flexible shading options.
The support beams and guide rails give the Pergolino a high degree of stability allowing it to withstand high winds and inclement weather. The system is easy to assemble and uses gas-filled cylinders to ensure the fabric stays taut.
The system is made even more convenient as it utilizes an electric drive system for effortless extension and retraction of your awning.
Frame Colours
No matter the style or colours of your home or commercial building, the Pergolino's frame colours can be chosen to match. The frame is powder-coated allowing it to resist corrosion during all types of weather and remain looking pristine for years to come.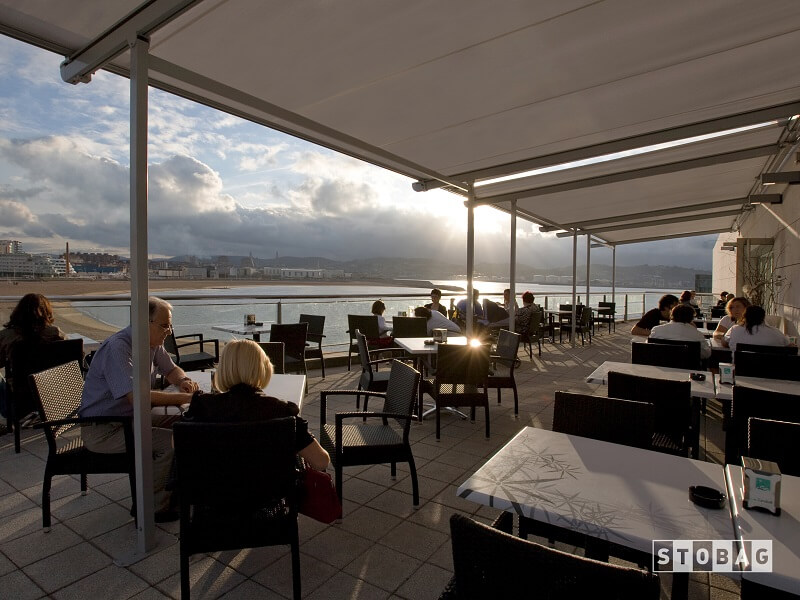 Pergola Awning Fabrics
When purchasing a Pergolino, you will have a wide option of fabric colours to choose from. The Pergolino fabrics are all treated to ensure they offer UV protection and protection against rain. They are made to be easily washable and not to fade in the sun over time.
The huge assortment of available colours helps to ensure that that you can find an awning that is perfectly suited to your home or business. Go with a timeless neutral shade or a vibrant colour that matches your company brand – the choice is yours.
Pergolino Motorization
It has never been easier to get a little more – or a little less – shade from your awning. With a simple touch of a button on your remote control, you can extend or retract the Pergolino's fabric to ensure that you always have exactly the right amount of shade.
But what if you are not home? What if your awning is out and a day's outing took longer than expected and a potentially damaging weather system is rolling in? The Pergolino has a solution for that too. Sensors on your awning will detect the wind and roll up your awning in time to keep it protected from the coming storm.
Contact Jans Awnings today
If you would like to learn more about the Pergolino and whether it is the right solution for your Burlington home or business, contact us today. A member of our team would be happy to speak with you.