Whenever people think of patio covers, they tend to think of these structures solely as protection from the glaring summer sun's heat on a patio or deck.
Although patio covers are typically built for expanding outside space, entertaining and providing shelter from the elements, they can keep your car cooler during the summer heat as a carport.
Not only does it add protection for your car, but it also contributes both functional and aesthetic benefits. It's a good investment, adds beauty and value to your home, both of which will be taken into account for attracting future potential buyers.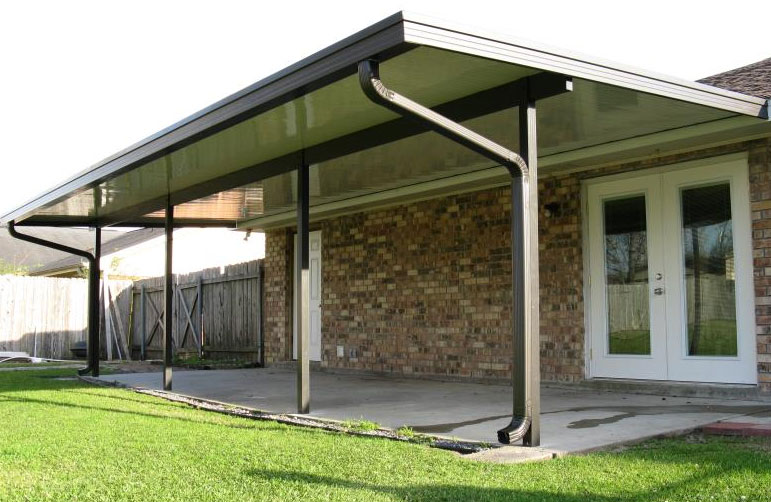 Protection From The Elements:
A patio cover (or roof) can protect your car from the elements; provide a dry storage area for your lawn equipment in addition to using it as a sitting area to escape the sun's heat. It can protect your vehicle not only from rain, sun and debris, but during the winter months too. A patio cover can help to protect your vehicle from the harsh winter and provides a safe spot for you to enter and leave your car during inclement weather.
Strong and Sturdy:
Because aluminum patio covers can withstand high winds and heavy snow loads, they are a perfect solution for people who live in harsh weather conditions, like Ontario. You won't have to worry about your patio covers coming apart or being damaged since they are designed for these types of conditions.
Patio covers are flexible and made with high-quality, structural aluminum. Aluminum is low in weight, strong and corrosive resistant, environment and Eco-friendly since aluminum is recyclable. Alloying, which is the addition of other elements such as copper, magnesium silicon and manganese is used to increase the strength of aluminum.
Maintenance Free:
Unlike wood structures, patio covers are virtually maintenance free and designed not to rust, warp, crack, rot or become infested with insects. Any dust or dirt that may accumulate is easily sprayed down with a hose.
They are constructed to maintain their original colour and texture. The high-end aluminum patio covers colour will not fade, since they are powder coated. This means that manufacturers use the same powder coating method for patio covers as they do to paint your car.
Customizable:
Patio covers used as a carport can be free-standing or attached to your existing home or garage. They are fully customizable and available in a variety of trim options. The cover is made of insulated laminated roof panels that snap together tightly to form a strong, structurally sound roof as well as a weather-proof barrier protecting your vehicle from the elements. There is also the option of having an open lattice design and some aluminum patio covers include gutters and downspouts.
Companies like Jans Awing Products offer an embossed aluminum clad insulated roof system with built-in eaves troughs and optional skylights. Their Duraform Roof System can be custom shaped and sized to fit around existing structures such as a chimney, bays and patio spaces to create a convenient covered carport.