Winters in Canada can be extremely severe in Southern Ontario and everyone likes to prepare their home for the long and frigid days ahead. Fireplace installations will be serviced & window and door insulation will be re-checked. Those who have awnings always worry about how they should protect them in the winter.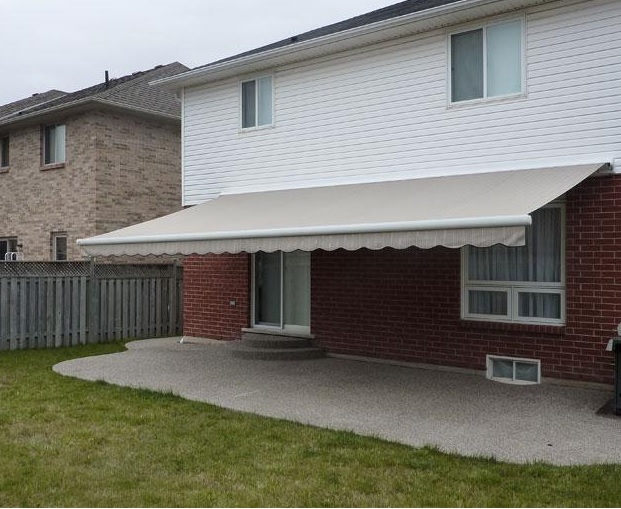 If you have manual fabric awnings, you might want to dismantle them & store them till spring. This is the best way of protecting the fabric from any kind of damage that the snow, ice, windstorms and cold temperatures causes. Doing this will give you "use-ready" awnings when you want them. Before dismantling, call whoever installed your awnings to see if that is the best course of action.
Winterizing Steps For Awnings
• Brush -off the dust, debris & all the leaves from your awning, and move in one direction- from its upper edge to the bottom edge
• Hose-off the awning & remove any dirt/debris that is stuck to it. Use a soft-bristled brush to carefully remove all the stains & dirt spots
• Dissolve a little bit of mild soap in a bucketful of warm water and scrub the awning clean with it. Make sure that the brush does not dry out while the cleaning is in progress
• Thoroughly rinse the awning with a hose
• Air it completely out and ensure that there is no dampness before you store it as this can result in moss & mildew growth
• If there is a hanging valance, remove it & hose that down well. Use a bit of mild-soapy water & clean-off all the dirt & dust from it with a very soft-bristled brush
• Let it dry out completely
• Roll it up properly & store it in a dry spot – this will prevent mildew/moss growth
• Just cover the valance lightly, but don't use any plastic cover as it will trap the moisture
• In case you have a retractable awning and are not removing it from the frame, use a specialized awning cover. These functional covers provide effective protection. They entirely cover the awning installation and will ensure that there is no mildew or moss formation
Things to Remember with Awnings
• Test the mild soap properly on a small hidden area of the awning & ensure that it isn't causing any damage
• Read the recommendations of the manufacturer and check which cleaning agents are best for your awning & check about the best care methods
High Quality Products
We provide very high-quality products that will give you trouble-free service for a number of years. Under regular use, Jans Awning Products remain waterproof for a long time. But, over years the elements may wear away at the waterproofing. If, upon inspection, you find that there is some moisture or water inside or any sign of water-penetration, apply a reproofing agent to the awning. Check manufacturer recommendations about the agent that should be used.
If you are looking for the highest-quality manual/ motorized awnings across Oakville, Burlington, Mississauga, Brantford, Hamilton, Milton, Ancaster, Brampton or Grimsby, call Jans Awning Products on 905.335.3733. If you have any queries about winterizing the awnings, please contact us via this online form.